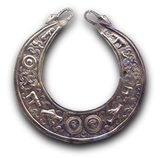 The Lusitanians have the Power of Gold. They replace the Inca.
The strip of coast reaching from the Pillars of Hercules to the very home of the Gallaeci in western Iberia can be one of the loneliest parts of the known world, but it is by no means a poor land. Despite being squeezed between Ocean to the west and the mountains of the east, the Lusitanians can be assured of a bounty of mineral wealth from which they have profitted well through trade and barter with the Carthaginians.
Even so such a prize may attract rivals from near and afar. Nevertheless, the Lusitanians are a people to whom war is no stranger and are more than prepared to face down any and all who dare to violate the borders of their homeland.
Faction Bonuses
Edit
Endovelicus' Blessing: Receive 33% refund on units killed by enemy
Viriathus
Punicus
Cesarus
Caucenus
Tautalus
Ambon
Tagus
Settlements
Edit
Oxthracai
Terena
Alanobricae
Anobrega
Arabriga
Arcobica
Arcobriga
Aranni
Arandis
Ardila
Auobriga
Equabonna
Auaron
Axabrica
Bracara
Britas
Budens
Conimbriga
Corumbriga
Cottaiobriga

Ercobriga
Etobrico
Hierabrica
Jurumegna
Lacobriga
Lamecum
Lubrigos
Uxonoba
Medrobiga
Meidubriga
Mirobriga
Meribriga
Merobriga
Elaneobriga
Evion
Burrulobriga
Caetobrix
Caeilobricoi
Caliabriga
Caladunum
Calambriga

Ebora
Eburobrittium
Tuntobriga
Turlobriga
Mundobriga
Moron
Ocelum
Pendraganum
Seliobriga
Tameobriga
Langobriga
Lemos
Londobris
Longobriga
Calle
Cantippo
Catraleucus
Vipasca
Malateca
Alis Ubo